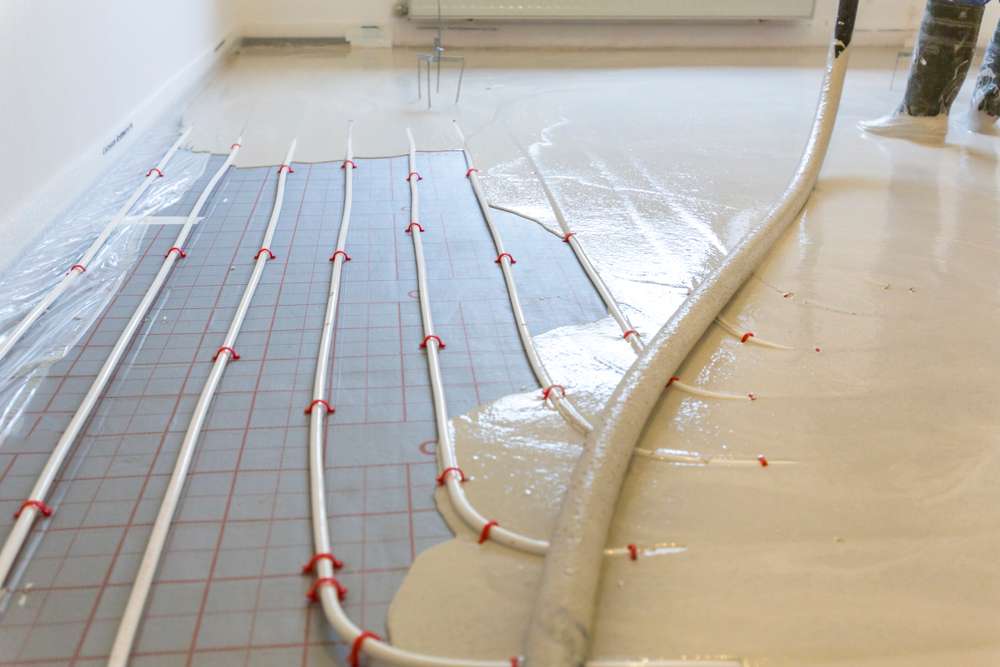 Increasingly acclaimed by the householders, the hydraulic heated floor is an ideal way for heating the houses. It offers better thermal comfort with a consistent temperature throughout the house, requires little maintenance, and allows significant space savings. However, its installation requires first to install a collector (to connect the heated floor to the boiler) and tubes, then to cast a liquid screed. This one must then be dried before the floor can be laid. How to proceed? Can we warm up with an electric boiler? Our answers.
Warming up the heated floor: the steps
The drying of a screed is an essential step, which must precede the laying of the floor covering. This process is mandatory because framed by standards which, requires the warm-up of a screed with heated floor, and lists the different steps to proceed. If you do not do correctly this step, your screed and flooring may crack. This is as well an opportunity to check that your heater is working properly.
Good to know: during this warm-up step, make sure your room is well ventilated.
The rise in temperature can take place only 14 days after the screed pouring. Once this time has elapsed, here are the different steps to proceed with the screed warm-up :
The first warm-up starts with a fluid whose temperature is between 20°C and 25°C and must be maintained for 3 days.
Increase daily the inlet temperature from about 5°C up to the maximum operating temperature (usually between 35 and 40°C).
Once the maximum service temperature is reached, maintain it for 4 days.
This heating process should be noted on a document provided by your heating company. Once the progressive warming has been done, you can proceed with the installation of your floor covering.
> To read also: What is a heated floor? How does it work?
Simplify the warm-up process thanks to an electric boiler
The gradual warm up during the drying of the screed is a meticulous process, which requires the ability to adjust the temperature accurately. The electric boiler is thus the ideal element for drying, thanks to an adjustable temperature thermostat. If you have a controller/programmer, this will make it even easier for you. Note that some boilers also have a screed drying program (do not hesitate to check the manual of the product).
Did you know? If your home is under construction and you do not have a functioning electric boiler yet, it is possible to rent temporary portable boilers, which will ensure controlled drying of the screed.